According to on-chain data, Voyager Digital, the centralized finance (CeFi) platform that filed for Chapter 11 bankruptcy in July 2022 has reportedly sold assets through the Coinbase crypto exchange. The investigation suggests that Voyager received at least $100 million in USD Coin (USDC) in just three days, starting from Feb. 24.
News Sentiment: Negative
Voyager Digital Transfers Millions of Dollars to Coinbase
On Valentine's Day, Feb. 14, Voyager sent crypto assets to Coinbase almost daily, as alleged by on-chain analyst Lookonchain. The investigation shows that Voyager transferred millions of dollars using a mixed bag of cryptocurrency tokens, including Ether, Shiba Inu, and Chainlink.
Lookonchain also revealed Voyager Digital's use of 23 tokens valued at over $100 million. Despite the reported sell-off, the most significant shares of Voyager, nearly $530 million in crypto holdings, are in Ether ($276 million) and Shiba Inu ($81 million)..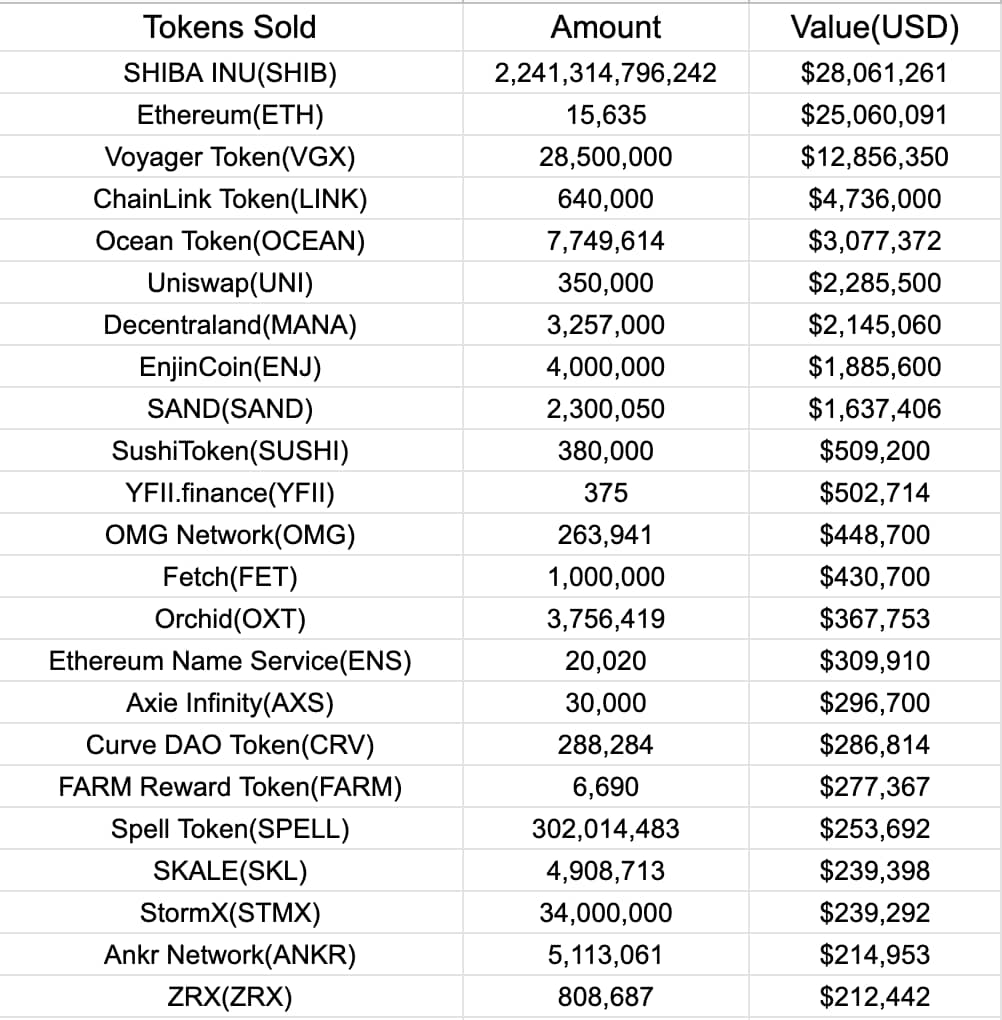 SEC Raises Concerns Over Binance.US' Acquisition of Voyager Assets
The United States Securities and Exchange Commission (SEC) has raised concerns over Binance.US' move to acquire over $1 billion of assets belonging to Voyager, and in a filing submitted on Feb. 22 to the U.S. Bankruptcy Court for the Southern District of New York, the SEC stated that Binance.US has yet to demonstrate that it would be able to conduct such sales in compliance with federal securities laws.
The filing highlights concerns over the lawfulness and ability to undertake planned asset restructuring through the acquisition and whether Voyager debtors can recoup some of their assets following the firm's bankruptcy. Voyager may be liquidating its assets to pay off its debts, which may cause further market instability.
In conclusion, Voyager's alleged sell-off of assets through Coinbase has raised concerns over the lawfulness of the move and the market implications it may have. This development underscores the need for greater regulatory oversight in cryptocurrency to ensure transparency and protect investors.