Representatives for Voyager Digital Holdings' unsecured creditors have demanded the appearance of Sam Bankman-Fried (SBF), the former CEO of FTX, and several top-level executives from FTX and Alameda Research for a deposition in court remotely next week.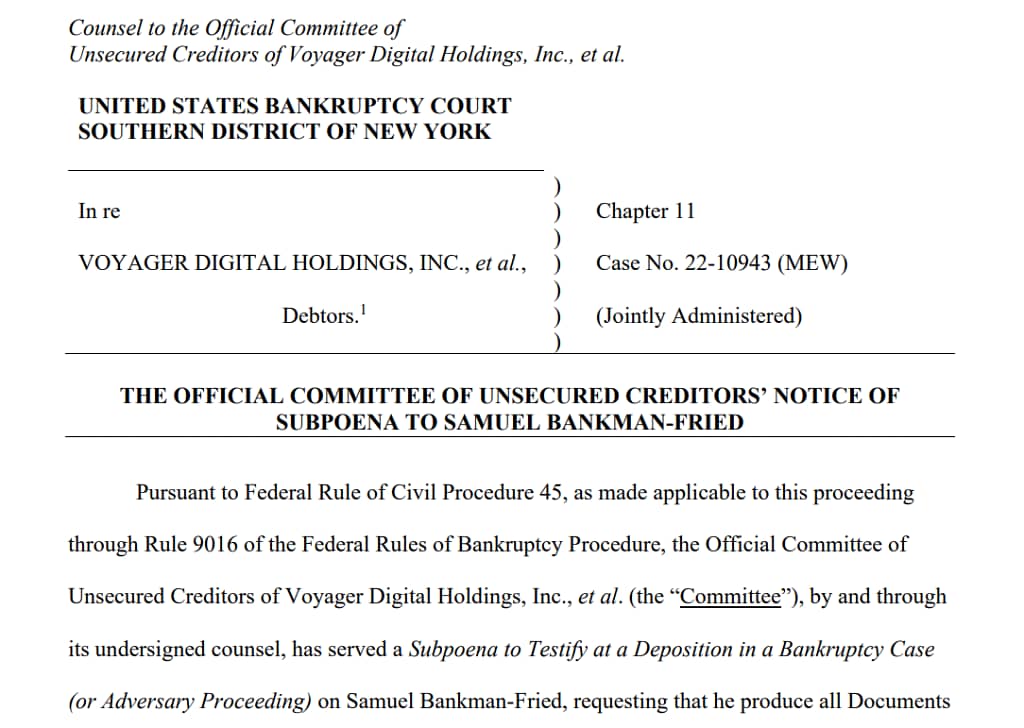 According to a court filing on February 18th in the United States Bankruptcy Court for the Southern District of New York, SBF has been served a "Subpoena to Testify at a Deposition in a Bankruptcy Case." The Official Committee for the Unsecured Creditors of Voyager Digital Holdings, a bankrupt crypto lending exchange, has stated that SBF must appear for the "remote deposition" on February 23rd.
Court filing reveals subpoena for documents and deposition from SBF and others
In addition, the filing also stated that Bankman-Fried must produce all requested "documents and communications" no later than February 20th.
This comes after Voyager's lawyers revealed in a February 6th court filing that they had issued a subpoena to Bankman-Fried, Alameda CEO Caroline Ellison, FTX co-founder Gary Wang, and FTX's head of product, Ramnic Arora. All individuals were required to provide the requested information by February 17th.
FTX debtors are authorized to issue subpoenas for information and documents
Previously, Judge John Dorsey had authorized FTX debtors under bankruptcy court rules to issue subpoenas for information and documents from former FTX colleagues and family members of Bankman-Fried.
SBF's legal troubles continue with potential bail revocation
On February 16th, it was revealed that Bankman-Fried might potentially have his bail revoked after Judge Lewis Kaplan stated that there was "probable cause" to believe that he engaged in attempted witness tampering.
Furthermore, court documents filed on February 3rd revealed that Bankman-Fried's holding company, Emergent Fidelity Technologies, had filed for bankruptcy protection.
Bankruptcy protection sought by SBF's holding company, Emergent Fidelity Technologies
The ongoing legal battle between Voyager Digital Holdings and its creditors has taken a new turn with the issuance of a subpoena to SBF, along with other top-level executives, in a bid to investigate the ownership of a $5.7 million Ethereum address associated with Voyager's liquidation process.
The creditors allege that SBF received funds from selling Voyager's assets, which they believe belong to him. The case will undoubtedly significantly impact the broader cryptocurrency industry, and it remains to be seen how this will unfold in the coming days.
In conclusion, the court summons of Sam Bankman-Fried and other FTX executives by Voyager's unsecured creditors highlights the ongoing legal battle between Voyager Digital Holdings and its creditors.
The allegations of SBF's involvement in the liquidation process and his potential witness tampering add further layers to an already complex case. The broader cryptocurrency industry will watch this case closely, as it could set a precedent for future legal battles.