Cryptocurrency airdrops have become famous for blockchain projects to raise awareness and reward early adopters. SUI Network is one such project that is offering an airdrop to its community members.
If you're interested in participating in the SUI Network airdrop, you've come to the right place. In this article, we'll guide you through everything you need to know about the SUI Network airdrop, including what it is, how to participate, and the requirements to be eligible.
What is SUI Network?
The Sui blockchain is a new layer-one blockchain created by the team behind the Diem project. It features a Move programming language, which is highly similar to the language used in Solana but is widely regarded as a developer favorite.
What is an Airdrop?
An airdrop is a marketing strategy blockchain projects use to distribute free tokens to their community members. The purpose of an airdrop is to increase awareness of the project and incentivize community members to become more engaged with the project. Airdrops are typically used to reward early adopters and build a strong community around a project.
How to Participate in the SUI Network Airdrop
Sui is expected to have a massive airdrop shortly, worth hundreds or even thousands of dollars for each participant. This guide will walk you through all the steps you need to take to qualify for this airdrop.
Total Time: 30 minutes
Setting Up a Sui Wallet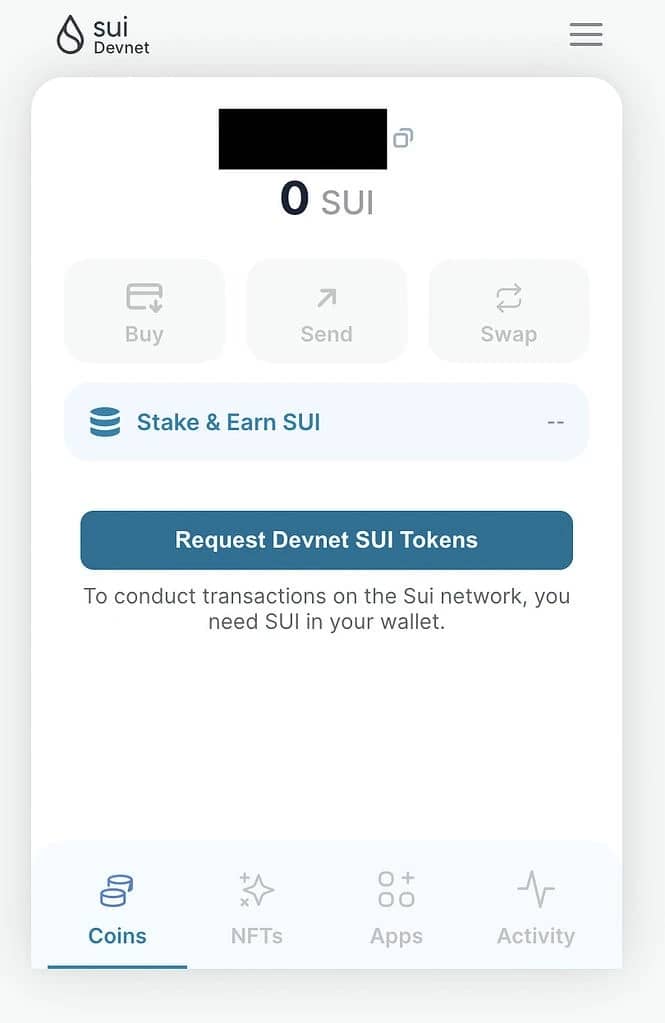 The first thing you'll need to do to start using Sui is to set up a wallet. This is where you'll store your SUI tokens and any NFTs you mint or purchase. The official Sui Wallet is the best choice and is available as a browser extension. 
Here's how to set it up:
Install the Sui Wallet browser extension from the Chrome Web Store.
Create a new wallet by following the prompts. Be sure to save your seed phrase in a secure location.
Once your wallet is created, you'll see your SUI balance displayed.
Requesting Free Tokens on Sui DevNet
To interact with dapps on Sui, you'll need some SUI tokens. The easiest way to get some is to request them on the Sui DevNet.
Here's how:
Open the Sui Wallet extension and click on the menu icon.
Click on "Request DevNet SUI Tokens."
Enter the number of tokens you want (you don't need much, just enough to interact with dapps).
Your tokens should arrive in your wallet shortly.
Minting NFTs on Capy.art App
Mysten Labs, the team behind Sui, released a demo app over the 2022 holidays called Capy.art. This app allows users to mint free NFTs and send them to friends.
Here's how to use it:
Go to Capy.art and connect your Sui Wallet.
Click on the "My Collection" tab and mint your free capys.
Alternatively, you can buy any capy from the "Market" page.
Play around with the app by breeding capys and trying all the accessories.
Requesting Testnet Tokens from the SUI Discord Faucet
Now it's time to move on to the Sui TestNet. To get started, you'll need some testnet tokens.
Here's how to get them:
Join the official SUI Discord.
Head over to the #testnet-faucet channel.
Type "!faucet <your_sui_address>" to receive some free SUI tokens.
Stake some SUI tokens to any validator
Staking is the process of holding funds in a cryptocurrency wallet to support the operations of a blockchain network.
You can earn more tokens as a reward by staking your SUI tokens. To stake your testnet SUI tokens, click the "Stake and Earn SUI" button on the Sui wallet extension, and then choose any validator from the list.
Validators are nodes that maintain the Sui network and validate transactions. When you stake your tokens, you delegate them to a validator to help secure the network.
In return, you earn a share of the transaction fees and block rewards the validator makes.
Mint an example of NFT
NFTs, or non-fungible tokens, are unique digital assets that cannot be replicated. They have gained popularity in recent years, especially in art and collectibles.
With Sui, you can easily mint your NFTs using the Sui wallet extension. To do this, click on the "Apps" tab on the extension and then "Mint an NFT."
You can then choose an image or video for your NFT and add a title, description, and other details. After a few seconds, your NFT will be minted and added to your collection.
Create your own NFT on Sui Testnet using the demo app
In addition to the example NFT, you can create your custom NFTs using the Sui demo app. To do this, you must first upload an image to a hosting service such as https://imgbb.com/, then copy the link to the picture. 
Then, go to the Sui demo app at https://sui-wallet-demo.sui.io/ and enter the name, description, and image link for your NFT. 
Click "Create NFT," and your custom NFT will be minted and added to your collection.
Claim a Sui domain name on TestNet
Domain names are essential to the internet, allowing users to access websites and other online services. 
With Sui, you can claim your domain name on the testnet using one of two service providers: SuiNS.io or SNS.domains. 
These providers allow you to search for available domain names and link them to your Sui wallet address. 
By claiming a domain name, you can make it easier for others to send you tokens or access your dapps on the Sui network.
Conclusion
Setting up a Sui network wallet and exploring the various dapps and features on the Sui network is a great way to learn more about the world of blockchain and cryptocurrencies. By following the steps outlined in this article, you can quickly get started with Sui and begin exploring all it offers.