Bitcoin's (BTC) long positions on Bitfinex have dropped as whales suddenly cashed out on March 25 at around 13:00 UTC, according to data from Datamish. These wallets have been inactive since June 2022, with an aggregate value of 12,000 BTC. This movement represents a small segment of investors motivated to exit their long and short BTC positions to take advantage of the recent price pump.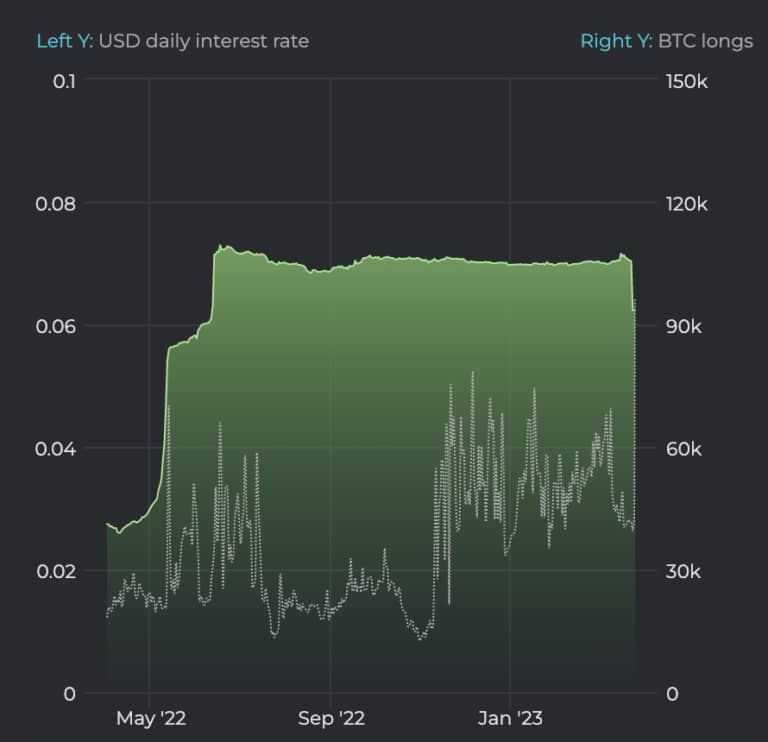 12,000 BTC Drop Represents a Small Segment of Investors
This cash out on March 25 marks the most significant change in BTC's long positions since June last year. At the time of the 12,000 BTC drop, the total volume of long BTC positions was just above 110,000 BTC. Even though the whale exits may indicate a bearish sentiment, the overall picture is not so pessimistic. The total volume of BTC sitting at long positions is 93,511, reflecting a solid bullish market sentiment at the time of writing.
Short BTC Positions Reach One-Year Low, Indicating Bullish Sentiment
The behaviours of investors who hold short BTC positions also support the bullish market sentiment. Short BTC positions have been recording a steady decline since the end of 2022, currently at their one-year lowest. This indicates that investors do not want to bet against BTC.
BTC's recent price pump considerably contributed to the current bullish market sentiment. On March 21, BTC surged past $28,000, which led to liquidations that raised over $230 million within 24 hours. The surge also motivated long-term holders to liquidate their positions, according to CryptoSlate research. "Long-term holders are one of the most important factors," the research states, "as their behaviour determines local bottoms and fuels future price rallies." As soon as BTC broke through $28,000, long-term holders rushed to sell a portion of their holdings, decreasing the BTC price slightly.
The same movement was recorded during the slight BTC price increase on March 15. Long-term BTC holders sold off over 43,000 BTC between March 15 and 17.
In conclusion, the recent cash out of BTC long positions by whales on Bitfinex may indicate a bearish sentiment, but the overall market sentiment remains bullish. The decline in short BTC positions and the contribution of long-term holders to price rallies are signs of bullish solid market sentiment.