News Sentiment: Negative
According to on-chain data, a Chinese MLM Ponzi scheme has become the sixth-largest holder of the MATIC coin.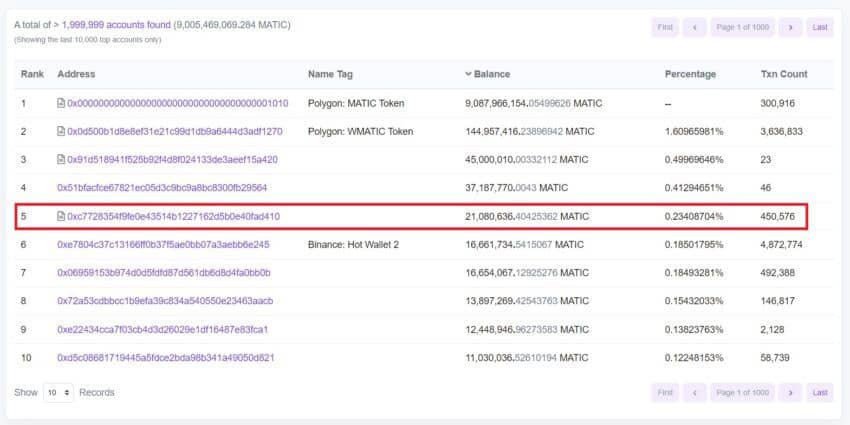 The Ponzi "MATIC Holding" Surpassing the Binance Hot Wallet
---
According to PeckShield, the address connected with the Ponzi scheme holds around 22 million MATIC tokens, surpassing the Binance hot wallet and making it the fifth-largest holder.
Colin Wu, a Chinese journalist, has also written on the project, known mostly on Chinese social media as "Avatar."
This project has gotten much attention because of its excessive gas usage on the Polygon network. Over the last week, the address has used over 100,000 MATIC tokens in gas fees, with the address having conducted over 100,000 transactions. As a result, the Polygon network's gas expenses have risen to more than 700 gwei.
"Avatar's" Referral Staking Mechanism Raises Red Flags
---
Avatar claims to provide a referral staking mechanism with substantial payouts; nevertheless, cryptocurrency community members have voiced concerns and issued cautions regarding the project and its suspicious returns. According to @CryptoNasss tweet, this MLM scheme offered a referral staking of 1% daily APR.
The initiative's activities and information are mostly confined to Chinese social media, making it difficult for English-speaking community members to learn more about the project.
The rise of the Chinese MLM Ponzi scam as the fifth-largest MATIC token holder, as well as its influence on the Polygon network's gas fees, serves as a reminder to investors to exercise caution and properly study any investment prospects.